Our plastic barriers are made to order in Whiby ontario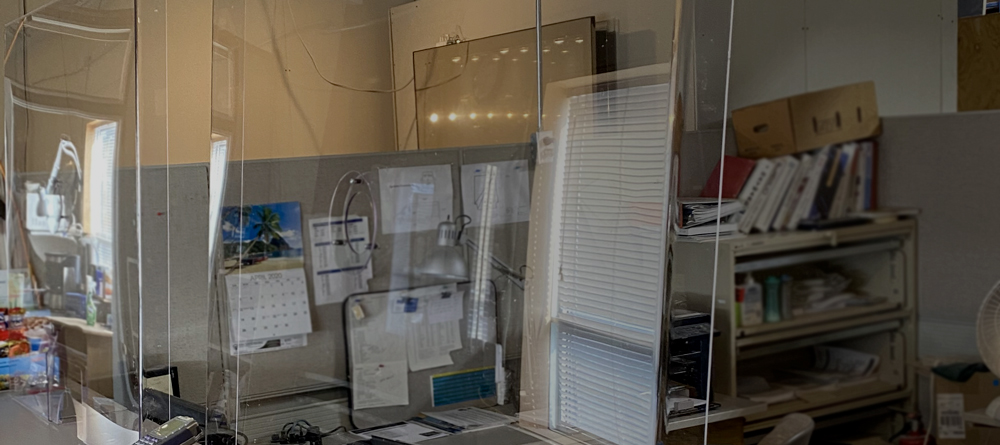 Our Free Standing COVID-19 Barrier
Our free standing clear plastic barriers are locally produced made to order at a fair price. We created this specific product to cater to the front-line workers that have no means of fastening a barrier to their workstation. Our barriers are made out of .125'' or .187'' *clear PETG or Acrylic material and come with a talking hole with standoffs and cover plate, as well as a pass through slot with a blocker. The barrier is 100% optically clear, allowing you to have a safe space to conduct business while always being able to see and converse with customers. The clear plastic barriers are made from PETG plastic and acrylic, meaning they are not only tough but cleanable!
*Due to current market supply, our barriers will be made out of either clear PETG Co-polyester or clear acrylic. Either material is suitable for this application
Points of interest 
Dimensions: 39'' High x 45'' Wide
Fully functional "safe & sound" talking hole with cover plates on standoffs
Bottom pass through cutout with removable blocker plate
Free standing, no need to worry about what and where you are fastening it
Cost effective solution
Price Points
We were recently able to bring our cost down by a noticeable amount and we wanted to pass of the savings onto any new orders. Please see the adjusted pricing below.
.125'' Thickness Barrier is currently retailing for $219.24 CAD
.187'' Thickness Barrier is currently retailing for $309.97 CAD (currently out of stock)