Plastic fabrication for set design in film and television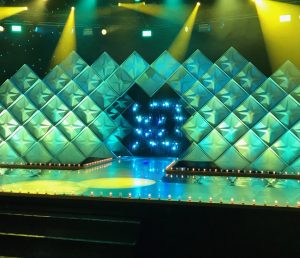 We have firsthand experience working in the film and television world. Using our in house CNC machines, massive ovens for thermo-forming & speicialized tools and equipment; there isn't much we can't do. We have the skills to help develop and create the most complex set designs or props one could imagine.
Sometimes a production team has fantastic ideas that can make a scene jump from passable to incredible. Often times, turning these ideas into reality requires extensive knowledge and experience with specific tools and materials, that's where we come in. Pairing our experience & dedication with a fantastic idea is where we get some of our most proud products. We've been working alongside some of the top production companies in North America for over 20 years. We strive to provide not only excellent products but products that arrive on time - when they're expected. We know in this industry meeting production deadlines is critical.
We've created numerous one of a kind products for movies & tv shows such as:
X-Men
Rupture
Mutant X
Jason X
Deal or No Deal
CBC news broadcasting
Undercover Brother
RuPaul's Drag Race